ParentingChoice is an interactive online Parenting Class, designed to satisfy the Parent Education & Family Stabilization course that is required to obtain a divorce.
Court Approved in Texas INSTANT CERTIFICATE • NO TEST

ParentingChoice.com is just $39.99 which includes everything... there are no additional costs and your certificate is available to you immediately via download & email.

Take our online parenting class on your own time, at your own pace 100% Smartphone, Ipad & Android Pad Compatible.
How it Works
100% Online and Smartphone/Mobile Device compatible. Register & take the course from any computer or internet mobile device.
There is no test, simply complete the course requirements and get your certificate of completion immediately!
With ParentingChoice.com, each section consists of reading, audio, video and interactive lessons which cover topics involving coping with divorce, divorce and children, family dynamics, financial responsibilities, legal aspects of divorce, neglect and abuse, and strategies for dealing with relationships.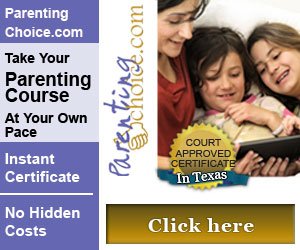 © ParentingChoice, Inc 6/27/2022